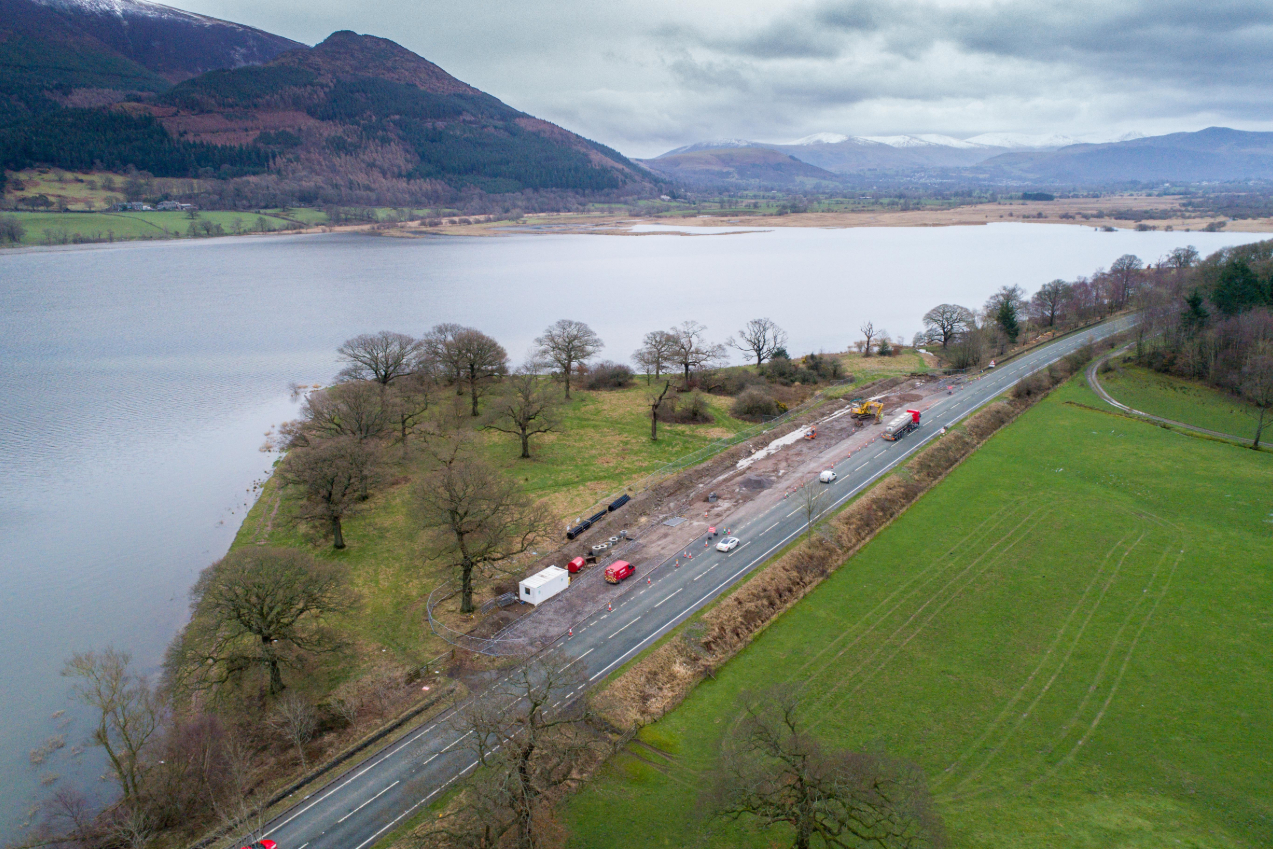 A66 Construction of Layby & Flood Protection
Bassenthwaite, Cumbria
Client Kier | Cumbria County Council
Completion Date 2017
Contract Value £2,087m
Construction of a raised road level and new layby on the A66 and the shore of Bassenthwaite Lake, installation of flood drainage to minimise flood disruption to traffic on this Sir William Pitt designated National strategic link road. Creation of vehicle and pedestrian access to farmland and a public osprey viewing site.
Key Designations/Constraints
Bassenthwaite Lake is a Natural England designated SSSI, a Special Area of Conservation (SAC) and a Nature Conservation Review Site (NCR) within the Lake District National Park. The Park is both a nationally and internationally (UNESCO) designated protected area. The works were adjacent to the Lake itself and the Rough Mire SSSI and had direct impact on several tributary streams, both of which created a very restricted work space. We also facilitated ecological monitoring by the Environment Agency and Keir Highways environment team.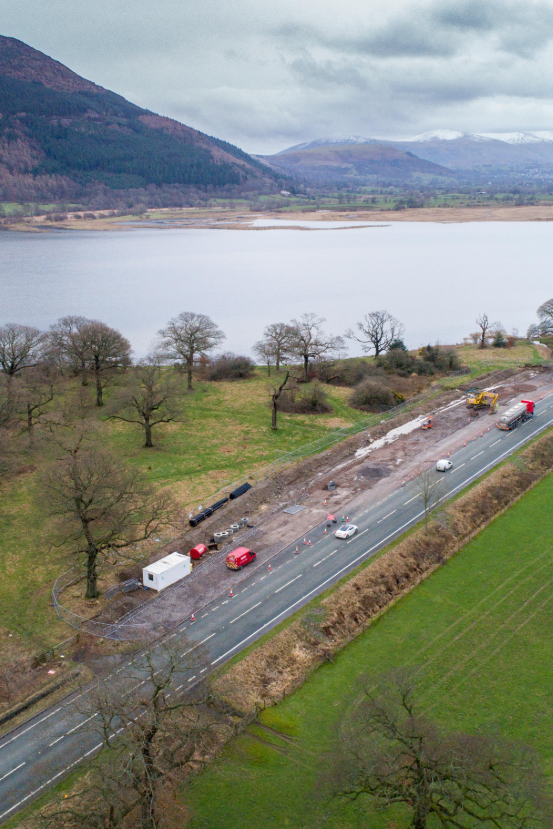 Issues Encountered
Potential contamination of tributary watercourse and ground drainage.
Restricted work space and traffic management with off-peak road closures adjacent to an accident blackspot.
Temporary works to support installation of gabions and safety handrail.
Coordination of other agencies: Keir Highways, County Council, Natural England, Hanson for road surface.
An engineering solution that both minimised disruption and was a long-term sustainable road surface.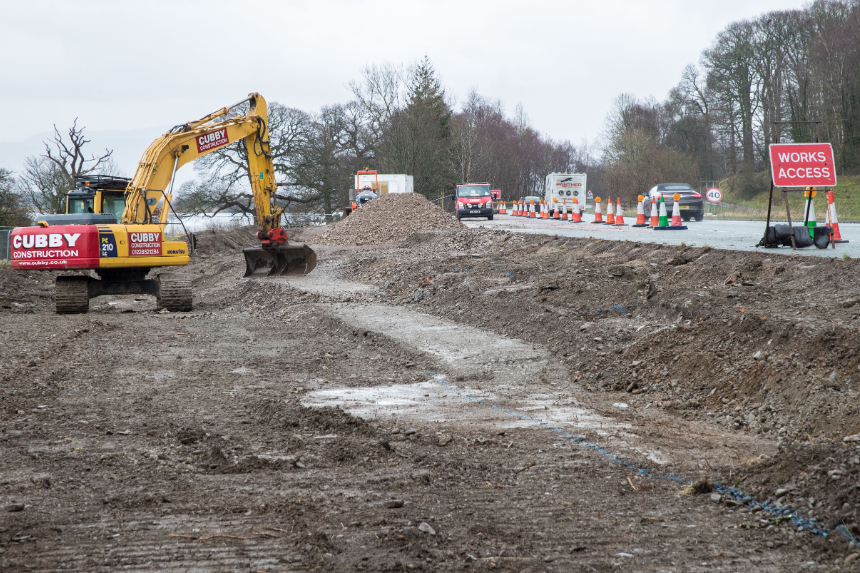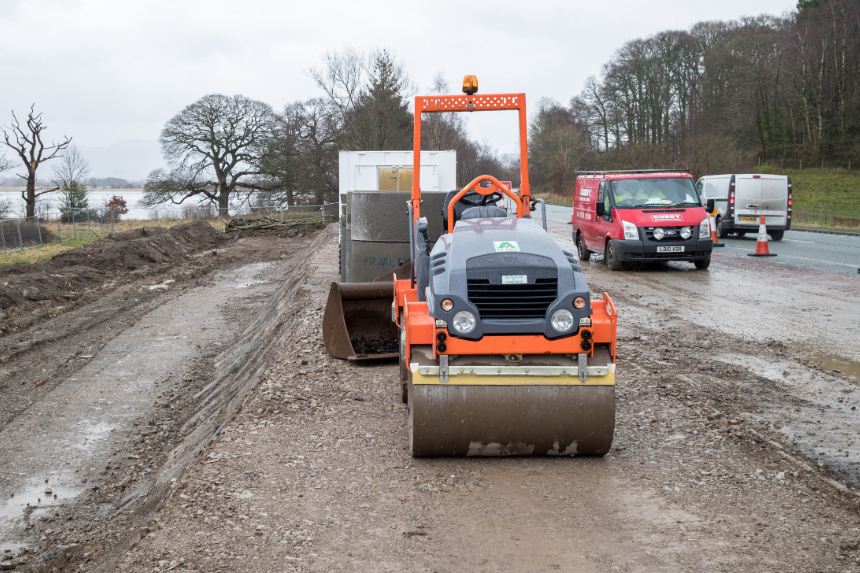 Solutions
Developed and enforced a robust contamination prevention plan with a zero-pollution policy; including, bio oils for plant, deployment of a concrete 'wash-out' skip, restricted vehicle movement, and absorption booms installed across watercourses.
All spoil, including obsolete hazardous tarmac, was removed to our own off-site waste management location in Carlisle.
Bog-mat deployed to minimise impact of essential vehicle Encroachment and innovative use of scaffolding to support both gabion installation and safety handrail installation avoiding operatives working in the watercourse.
Hydro-dig wheeled excavation plant was purchased and added to our fleet deployed to minimise impact on vegetation and improve vehicle stability on soft ground.
Specialist traffic management sub-contractor employed, and operatives briefed on the appropriate response to a minority of aggressive members of the public. (We also received many plaudits on how we managed the work to reduce disruption)
Using our local off-site facilities, we were able to construct, store materials and control delivery to secure a timely supply chain; including construction of pre-socketed gabions for hand rail supports.
Using our local knowledge and contacts we negotiated access with local farmers. We employed local contractors and materials such local wallers and local stone.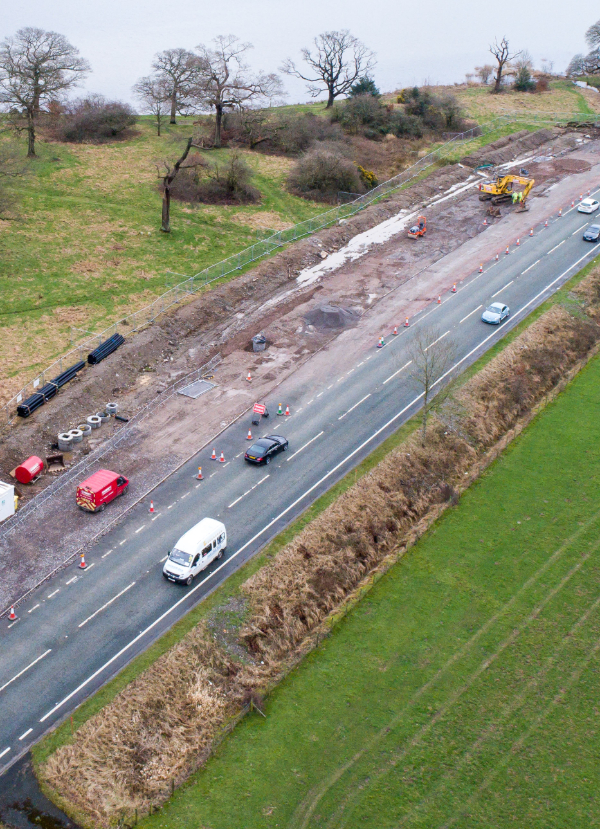 Get in touch
Call us on 01228 521 284, email at info@cubby.co.uk, or use the contact form. We'll get back to you right away.